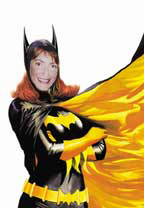 Maile was born and raised in Hana, Maui. When she grew up she wanted to be a Superhero. Instead she became an Art and Spanish teacher-which is like being a superhero, but without the cool costumes.

For her training she traveled from the tropics to Eastern Washington- just in time to experience their worst winter in 50 years. The next winter, Maile went to Ecuador and lived with the Cofan Indian tribe. The following year she went to China to help her sister, a medical anthropologist. After attending the Universidad de Guadalajara in Mexico she went back to Washington to graduate with an Education degree.

Since then she received her Masters from Lesley University and has taught K-12 Art, Cinematography, PhotoShop, Spanish, Yearbook and Volleyball in Seattle and Hawaii.

Currently, Maile teaches art at Pomaikai Elementary, and works with new teachers in Lahaina and Hana, she teaches classes for Heritage/Antioch University, www.hol.edu, does wedding photography, and is working on more books.
---

Created by Maile's students