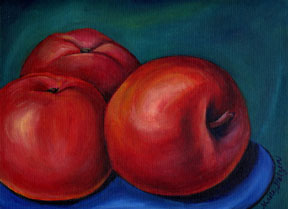 "Apples for the Teacher"
When it comes to art mediums, I am still experimenting. Please visit my gallery to see more.
The portrait of Fafa is my first oil. I did the same picture in colored pencil,which was faster since you can't erase. In oil, you can paint the same thing over and over again. In fact, I painted his face during my high school art class and the student's had excellent advice, "His nose looks fine, don't go over it again."