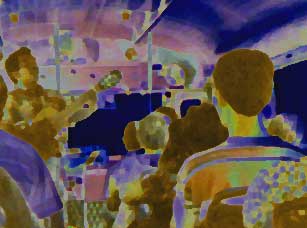 "Una Jornada"
These digital images began with photographs I took while living in Mexico. The one on your left, toured the country in a 1996 Computer Art Invitational. "Una Jornada" means a workday. On the bus in Mexico musicians hop on board to play for money. I still remember a six year old boy playing a leaf.
The images on the following page all have a music and dance theme. You have to take a close look at the kalaedescope navajo rug images. They were altered with PhotoShop 2.0 - if only it had layers and the mirror effect back then!
Me encanta México y podrias escribirme en español.